Today I will be unraveling the top best digital bank in Nigeria that you can open to do online transactions with without stress or panic.
When we have to go to a bank branch in Nigeria to sort out issues, we all know the hassle and stress we sometimes go through.
This is the reason why so many people detest having to go to a physical bank branch in Nigeria.
Digital banks in Nigeria are a new type of bank offering a better banking experience to Nigerians online. They are otherwise known as online banks, neobanks as well as internet-only banks.
In the past couple of years, digital banks in Nigeria have emerged, evolved, and promised to provide a better and more convenient banking experience than conventional or traditional banks. Some do this by providing a top-notch customer service experience.
Others, by not charging for transfer fees and charges. Some combine all of these with added features e.g Savings, Savings plus interest on those savings which is a bit higher than that of the traditional banks.
These 'digital banks' as the name implies, do not have physical, walk-in branches.
Hence, it is in their interest to make sure their online channels sufficiently cater to all of the customer's needs.
Therefore, with these institutions, there's a focus on mobile apps and websites.
See Also: 10 Business Ideas You Can Start with ₦100,000 In Nigeria
What is Digital Banks in Nigeria
Digital banks in Nigeria are also called online banks, neobanks as well as internet-only banks.
These types of banks do not have bank branches or halls. They have no physical infrastructure, unlike traditional banks.
Digital banking is the offering of banking services online. With digital banks, you are able to perform banking transactions easily online without the need for a physical bank.
Digital banking in Nigeria is on the rise, with many of them offering juicy benefits that you may not get from regular banks.
These digital banks in Nigeria tend to be better at the things traditional banks in Nigeria are bad at.
Like lesser or no transfer fees and great customer service. Instead of focusing on bank branches, there is a more laser focus on apps, websites, and digital channels.
See Also: Top 20 Best Online Investment Platforms in Nigeria
Top 10 Best Digital Banks in Nigeria
Here are the best digital banks in Nigeria:
1. Kuda bank
Kuda bank is a digital bank that claims to be the bank of the free. It is a bank in Nigeria free of the usual transfer fees and charges that a typical bank in Nigeria charges.
Kuda bank is one of the best digital banks in Nigeria. It is owned by Kuda Microfinance Bank (RC796975). They offer free ATM cards and free transfers. These are things you pay for with a regular bank.
Kuda does not charge card maintenance fees and it allows you to create smart budgets and a savings account where you can earn 15% every year.
You also get 25 free transfers every month on the Kuda App.
Kuda is available on the Google Play Store for Android and the Apple app store for IOS.
2. V by VFD (Vbank)
V by VFD, also known as V bank, is the leading digital bank in Nigeria. It is established by VFD Microfinance bank, which is a member of the VFD Group.
Users can open an account as fast as two minutes without any paperwork required. They offer very impressive interest rates on savings.
The amazing thing is that users can become agents who are known as Veelagers, and make money referring people to the bank.
You can open a V Bank account in under 2 minutes. A V bank account lets you do your budgeting and perform any banking function. You can open a V bank account through the V bank app with just your Phone number and BVN.
VBank users can make cardless withdrawals at different ATMs. They can also pay bills and manage their budgeting right inside the mobile app.
V bank is available on Google Play Store for Android and Apple app store for IOS.
Read Also: How to Get A Payoneer MasterCard in Nigeria
3. ALAT
ALAT is Nigeria's first fully digital bank. It is owned and operated by Wema Bank. It is very easy to use and has lots of features. You can open an account with just a few clicks.
There is no paperwork required to open an account. All you need is a phone number and BVN. Other information needed are things like your name and address.
You can take instant loans on ALAT, save with friends, create and make payments with virtual cards, and so on.
Interest rates on savings with ALAT can go as high as 10% annually, which is a tad higher than normal bank rates. ALAT also allows you to save alone or in groups. You can perform the usual banking transactions as well.
Download ALAT for Android and iOS.
4. Rubies
Rubies offer a good personal and business digital banking experience. With a very easy-to-use app that is available for Android and iOS, customers can tap into the amazing offerings of Rubies.
Rubies bank allows you to create virtual dollar cards when you sign up with them.
It is one of the few digital banks in Nigeria that lets you manage recurring payments. Other features of Rubies include savings and investment services, as well as the ability to request money and send invoices.
They are highly rated and trusted. When opening an account, you have the freedom to choose your account number.
This will help you customize how you want your account number to look. Maybe use your birthday, phone number or any number that means something to you.
Download Rubies for Android and iOS.
5. Sparkle
Sparkle is a digital bank that offers ease of payment and transactions. The man behind Sparkle is Uzoma Dozie, the former CEO of Diamond Bank which is now Access bank.
With the personal account, you get a debit card, an expense tracker, customizable savings, as well as bill payments and the usual banking functions.
For the Sparkle business account, you'll be able to keep track of inventory, send out invoices to your customers as well as analyze your payments. You can also manage your taxes too.
They have many amazing features that will make life comfortable for customers.
You can split bills with family and friends. You can find a breakdown of how you spend your money and many more.
Sparkle emphasizes safety and fraud prevention, customizable savings, expenses tracker, 24/7 customer service, physical/virtual customer service, bill payments, and of course, previous leadership experience from conventional banks.
Sparkle is available on the Google Play Store and Apple app store.
6. Eyowo
Eyowo is a very innovative digital bank with lots of amazing features. Eyowo is a digital bank in Nigeria that allows you to send, spend, receive, save and borrow money with just your phone number. You can also create virtual dollar cards on Eyo for online shopping.
Eyowo also offers loans at zero-interest rates. With just a phone number you can create an account and send money.
Another is that you can take loans on the platform at a zero interest rate. Eyowo, like some other digital banks in Nigeria, also lets you create virtual cards.
Download Eyowo for Android and iOS.
You can also use the Eyowo USSD code: *4255#
7. Mint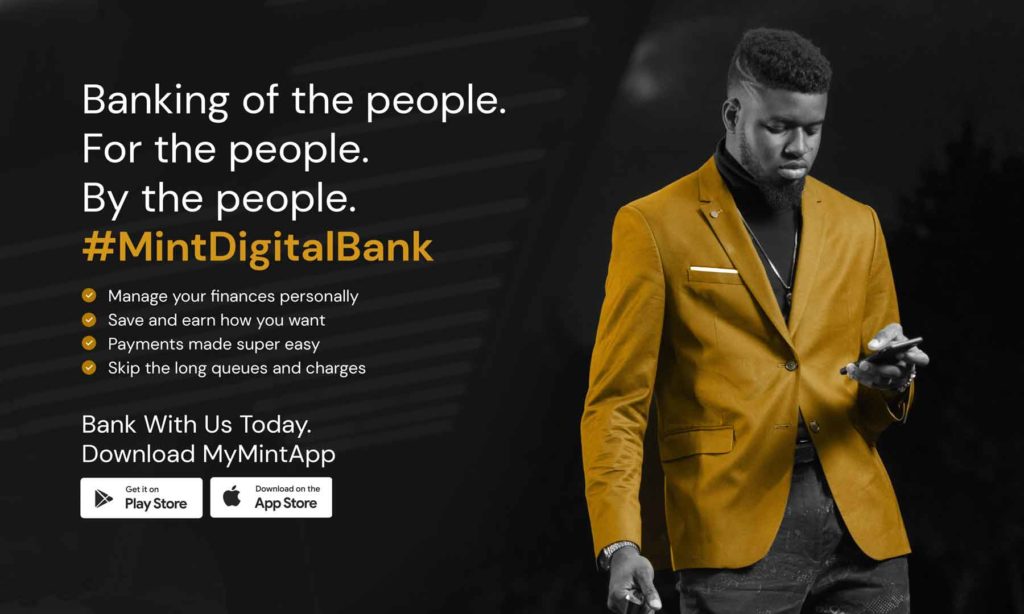 Mint is a digital bank that claims to be flexible and open with customers' finances and wants to give more Nigerians control of their money.
This means, no hidden charges, zero unreasonable fees. The Mint app provides an inflow and outflow chart for users. You can also set spending limits, lock your card, and plan ahead.
With Mint as your bank, you can set spending limits on your account, lock your card, create virtual cards and fund them and also set recurring payments.
Mint bank also allows you to create a current account with just N2000 in your account.
Download Mint for Android and iOS.
8. Fundall
Fundall is a digital bank in Nigeria that makes your financial life "smart", as it should be. Banking with Fundall offers you access to a Lifestyle card for making and tracking your payments.
You also get instant transfers, save as you spend, bill payments, and Money Request features.
Fundall allows you to easily budget, plan, save, invest and pay bills. You also get access to lending and insurance services on this platform as well as estate planning (wills and trust) services.
Fundall also has an AI bot that acts as a personal wealth manager for its users.
Download Fundall for Android. iOS is not currently available.
9. goMoney
The goMoney app also tracks your expenses and spending and keeps you up to date with your financial reports.
goMoney is a digital bank in Nigeria that is run by a conventional bank called Sterling bank.
They include split payments between friends, a money tracker (this tracks whatever you spend your money on), transaction pre-authorization notice, payment scheduler, etc.
It allows its users to simply send money, receive money, send payment requests, send payment reminders, and share payment receipts.
You also get physical and virtual cards when you open a goMoney account.
Download goMoney for Android and iOS.
10. OneBank
OneBank is a digital bank that is owned and operated by Sterling Bank. The process of opening an account is simple and easy for non-tech-savvy people.
It has an interesting feature known as the "Ajo scheme." Which is a way to invite your friends to start a contribution. Ajo is very common in major cities in Nigeria.
OneBank is available on the Google Play Store and Apple app store.
Main Differences Between Digital Banking & Online Banking
Online Banking is the form of banking that most of us are most familiar with. It can be a pretty broad term and even encompasses what has come to be known as mobile banking.
Online banking is simply any form of personal banking that we conduct using the internet.
This can anything from checking our balance and previous statements to setting up direct debits, paying bills or transferring money to another account of an individual.
For many years, online banking was conducted with a laptop or desktop computer, but the massive advances in smartphone technology mean that a growing number of people can now use mobile apps to carry out many core banking functions.
Digital banking is more of an overarching term that refers to all forms of financial transactions taking place with the aid of technology. Therefore, it could be argued that online banking is a form of digital banking, but that digital banking is much more than just online banking.
Digital banking can refer to the many digital products available to businesses to make them run more efficiently, such as accountancy, payroll software and payment technology. This can either be a physical store or an online merchant.
Many of the transactions we complete on a regular basis are classed as some form of digital banking, for example, booking tickets for events, paying for car parking, ordering and paying for food or using a store-specific app.
Thanks for reading this guide on the top 10 best Digital banks in Nigeria. You can leave your comment in the comment section elow.